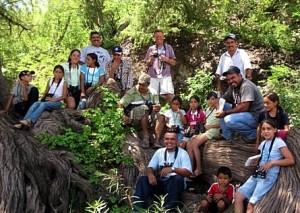 Welcome to the Solipaso! We are the little Mexican bird watching tour company with the funny name. Our office of operations is in the foothills of the majestic Sierra Madre mountains in the beautiful colonial town of Alamos, Sonora, Mexico. We are at the front door of the tropics and the back door of the Sonoran desert. The fantastic diversity of the region is what originally brought us here and what persuaded us to forge deeper into the country to experience and see even more. Solipaso is the largest and longest operating Mexico-based bird watching tour company. We consistently offer more scheduled trips to more areas of Mexico than any other tour company.
We hope that you will find our site full of helpful information about our trips as well as the birds, natural history, culture and diversity of this great country! We make every effort to maintain our website current and informative. Within the website you will find consolidated information about Mexico, which we have gleaned from our many years of exploring the remote reaches of the country.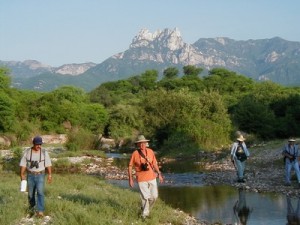 In 1994, we chose Mexico as a place in which to live and work for many reasons, and our commitment to our adoptive country is profound. One major reason that we decided to stay here was the wonderful friendships and partnerships that we have developed. We have always felt that our business had to provide opportunities for local community development in the direction of conservation. Without this critical element, a nature-based tour business is doomed to watch the habitat disappear around them. We are strong believers in nature-based tourism as a real economic force, and realize our responsibility to share the wealth to make that a reality. We are happy to have realized this goal in many ways! From our Bird Guide training programs to our rafting business in Sonora, Solipaso will always work to offer opportunities for motivated local people to work with us. Our long-term goal is to educate people on the need for and benefits of conservation and natural diversity. We strive to use and promote the best local guides and service providers in all the areas that we travel, and we are always looking for new talent and high energy local people who show an interest in birds, natural history and conservation.
Loosely translated, Solipaso represents a 'step into the sun'…a step into the sunny world of Mexico, filled with many adventures, discoveries and diverse rewards. We have worked hard over the years to provide exactly these kinds of experiences for our guests. Please explore our site and compare us to other companies that offer trips to Mexico. We think you will agree that no one else is better prepared to show you the birds of Mexico with a heavy dose of fun, in comfort and style! We hope to see you soon!
David and Jennifer MacKay
To book your trip or for more information, please contact us by email or call 888-383-0062.