David MacKay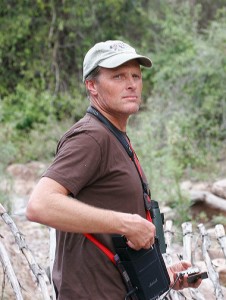 David was born and raised in Iowa, and as a child he spent many summers camping in the Chiricahuas of south eastern Arizona, where he grew in the midst of the ornithology world. After high school, he took an Outward Bound course that helped set the course of his life. With the travel bug itch, he hitchhiked all over the western USA and ended up at Prescott College studying Environmental Education. Following his college years, he spent some time managing a rock and roll band and being a bike messenger in San Francisco before becoming a tour leader at Backroads Bicycle Tours. After more time on the road and in the outdoors, he met and married his co-leader, Jennifer, and settled down as the Operations Manager for Backroads in Berkeley, California. Several years and two kids later, he and Jennifer decided to step out of the mainstream and move to Mexico in 1994. In Alamos, his love of birding was rekindled as he started working with small tour companies that came to town. David is a self taught birder and thrives on running great trips, seeing a lot of birds, eating good food and having loads of fun. His humor, knowledge and patience make for a great combination, and he loves what he does. He is often caught saying that he only sometimes feels guilty about what an amazing life he leads. David guides for Solipaso as well as for Field Guides, High Lonesome Bird Tours and Borderland Tours. He also works as a Mexico subcontractor for several US and UK bird tour companies. While specializing in Mexico, he migrates north every May and June to lead tours in Alaska.
Jennifer MacKay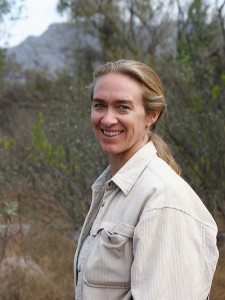 Jennifer was born in California and raised overseas, living in Italy, Australia, Brazil and France. A Language Studies major at UCSC and a seasoned traveler, Jennifer found her way into the catering and event planning industry and eventually left that field to lead trips for Backroads Bicycle Tours. She also married her co-leader and settled down for a few years to have two daughters with David. Moving to Mexico was an easy decision for Jennifer, and her years of living abroad and ease with languages came in handy. In Alamos, Jennifer and David created Solipaso, a small tour company catering to birders and natural history enthusiasts. Jennifer runs the office and takes care of business, both for the tours and the guests coming to stay in Alamos, while David leads the trips. However, Jennifer accompanies Dave on first run trips as well as other custom tours that require logistical attention, After years of being surrounded by birders, she's found her own relationship to birding and loves being out in the field, finding birds, making lunches and helping to run a smooth trip. In Alamos, she also runs our other business, El Pedregal Nature Lodge and Retreat Center and teaches yoga three days a week. Jennifer is very involved in our local community and sits on several boards that help to promote tourism, conservation and improving the lives of the people in Alamos. She follows David on the Alaska migration to cook for birding groups in Gambell.
Armando Mejia
Armando is a lifelong Alamos resident. He had the good fortune of working for an American couple who recognized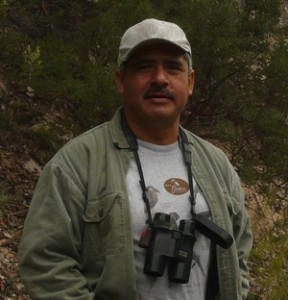 his talents and took him under their wings. They taught him English and many other skills and sent him to university for a degree in Engineering. Armando's calm and capable ways, along with a quick ability to learn new things, made him a natural for our river trip business, and he soon became the main boatman on the Rio Mayo. On the river, surrounded by amazing bird life, it didn't take him long to become a great birder. Recently, he has been an instructor in the Sonoran Joint Venture bird guide training program in Alamos and a founding member of the local bird club, Alas de Alamos. Armando leads a large number of our full and half day birding trips and is lead guide on the Rio Mayo river trips in Alamos. He also leads the San Blas Durango Highway trip with David. When Armando isn't birding and guiding, he works as a professional contractor in Alamos and has a beautiful family with two great kids.
Mario Ibarra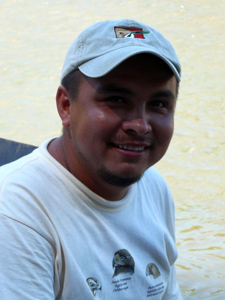 Mario, another lifelong Alamos resident, started working for Solipaso at the ripe old age of 17 in facility maintenance and construction. In less than two years, he had become a master plumber, electrician, mason and general contractor and was running things at El Pedregal for the MacKays. Keen for learning new things, Mario caught the birding bug from watching David and working with Armando as our second boatman on the Rio Mayo. Mario is the first graduate of the intensive Sonoran Joint Venture bird guide training program and has worked on the Southern Sonora breeding bird survey as a transect compiler that took place in July of 2010. A bit on the shy side at first, Mario warms up quickly and has the most contagious laugh in Sonora. Mario leads a number of full and half day birding outings in Alamos and is lead guide for the Saturday bird walks run by Alas de Alamos. You can also meet Mario on one of our Rio Mayo Float trips or on our Yecora Alamos trip.
Rafael Arenas Wong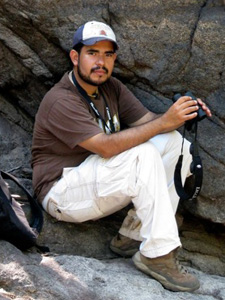 Rafael ('Rafa') was born and raised in Hermosillo, Sonora and has a life-long interest in all things 'natural'. After studying to become an ecologist, birds became a bigger part of his life, while he worked in a development position for the Mexican environmental organization, ProNatura. Rafa was instrumental in organizing and operating the Sonoran Joint Venture bird guide training program that offered up free training to local residents with interest in natural history interpretation and discovery. Rafa was in charge of training 12 different candidates from the local Alamos community, which involved a lot of time in the classroom as well as in the field. Rafa is currently working part time for Nature and Culture International in rural tourism and economic development. He works for Solipaso as a bird guide in Alamos and on some of our other Northwest Mexico trips whenever he is available. He has excellent command of English, and his kind and gentle demeanor makes him a pleasure to be with on trips.
To book your trip or for more information, please contact us by email or call 888-383-0062.